Jon Campbell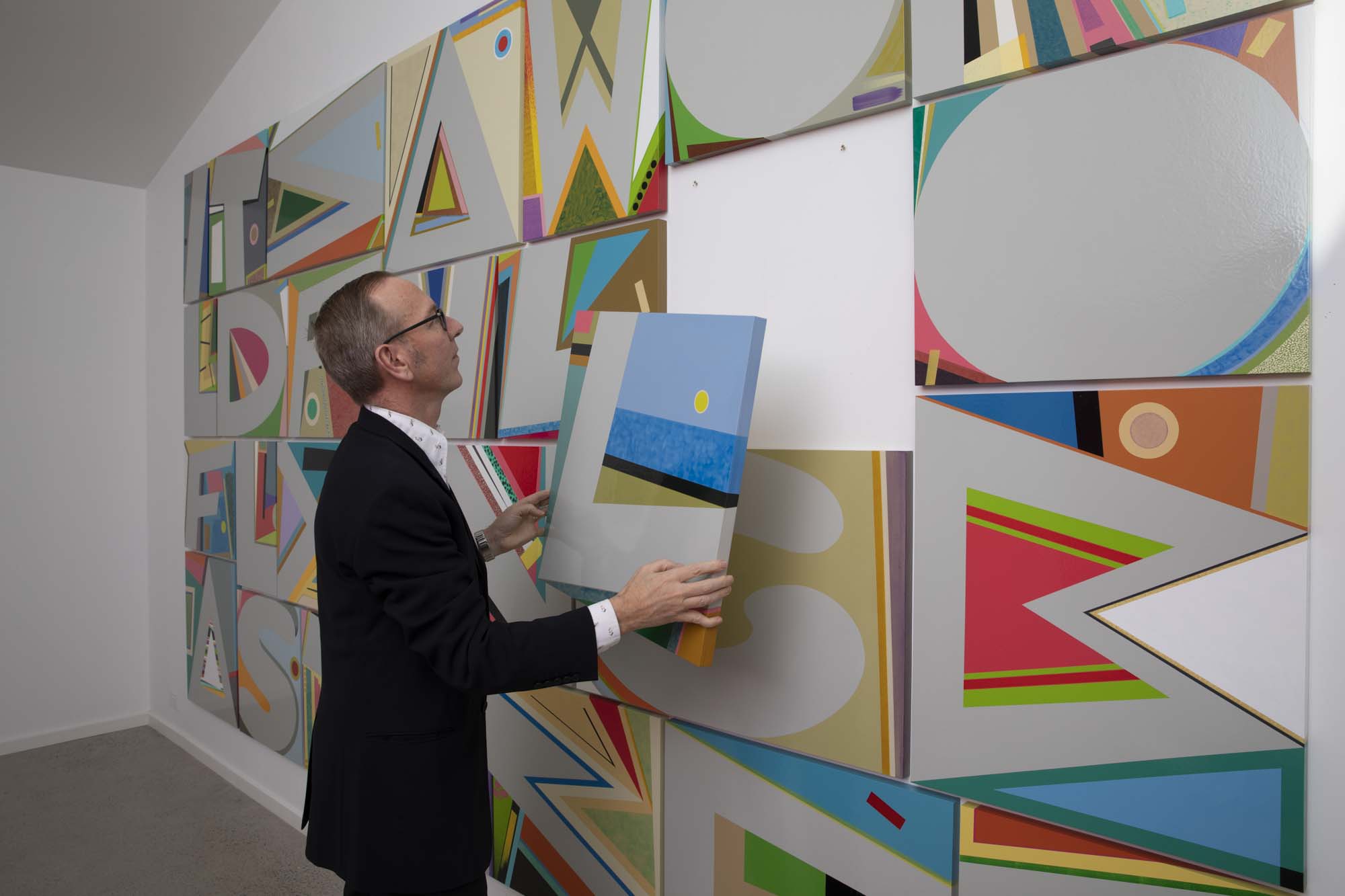 Jon Campbell photographed in his Melbourne studio by Tobias Titz, 2020
Jon Campbell was born in Northern Ireland in 1961. Based in Melbourne since the age of three, Campbell has been exhibiting since the mid-1980s. His practice has explored vernacular language and popular culture through paintings, drawings, neon light works, installations and musical performance. His practice celebrates the language of the everyday, and is grounded in the slang that Australians do so uniquely well.
His most recent text based paintings and prints find the artist delving further into his exploration of colour, form and tone, with the role of language moving from aesthetic focal point to subtle painterly device. Snippets of conversation and vernacular words and phrases are transformed using the conventions of formal abstraction to both confuse the original function of the words and to elevate them to a pictorial object. In this new series of works the negative spaces between the letters become positive when filled with colour.
In 2015 he completed a three-month Australia Council residency at the Greene Street Studio in New York and presented a solo exhibition at Art Basel Hong Kong. His work has also been included in two international group exhibitions: Its gonna take a lotta love at Franklin Street Works in Stamford, Connecticut, USA and Takeo Hanzawa, Devin Troy Strother & Jon Campbell at Gallery Side 2, Tokyo, Japan.
Campbell's work is regularly included in Museum exhibitions including Melbourne Now, National Gallery of Victoria, Melbourne, 2013-2014, and Just Sing What You Feel, National Gallery of Victoria, Federation Square, Melbourne, 2012. Other notable exhibitions include Paul Kelly Portrait Project, National Portrait Gallery, Canberra, 2012, Art and About Sydney 2010 – Are you looking at me? Laneway Art, Wynyard Lane, City of Sydney, 2010, Art, Music, Rock, Pop, Techno, Museum of Contemporary Art, Sydney, 2001 and Word, Museum of Contemporary Art, Sydney, 1999.

Campbell has been the recipient of several awards, including the prestigious Basil Sellers Art Prize at the Ian Potter Museum of Art, Melbourne in 2012 for his multi-panel painting Dream team, which comprised 22 individual paintings, each identifying a member of his imagined AFL dream team by nickname only.
A major monograph on Jon Campbell's work was published in 2010, and a new artist's book, Lettering, was launched in May 2015 at the inaugural Melbourne Art Book Fair, illustrating a selection of the artist's text based works since the 1980s.
Jon Campbell's work is held in collections including the National Gallery of Australia, Canberra, the National Gallery of Victoria, Melbourne, the Art Gallery of South Australia, Adelaide, the Museum of Contemporary Art, Sydney, the National Portrait Gallery, Canberra, Monash University Museum of Art, Melbourne, Artbank, Australia, and the Australian Football League, Melbourne.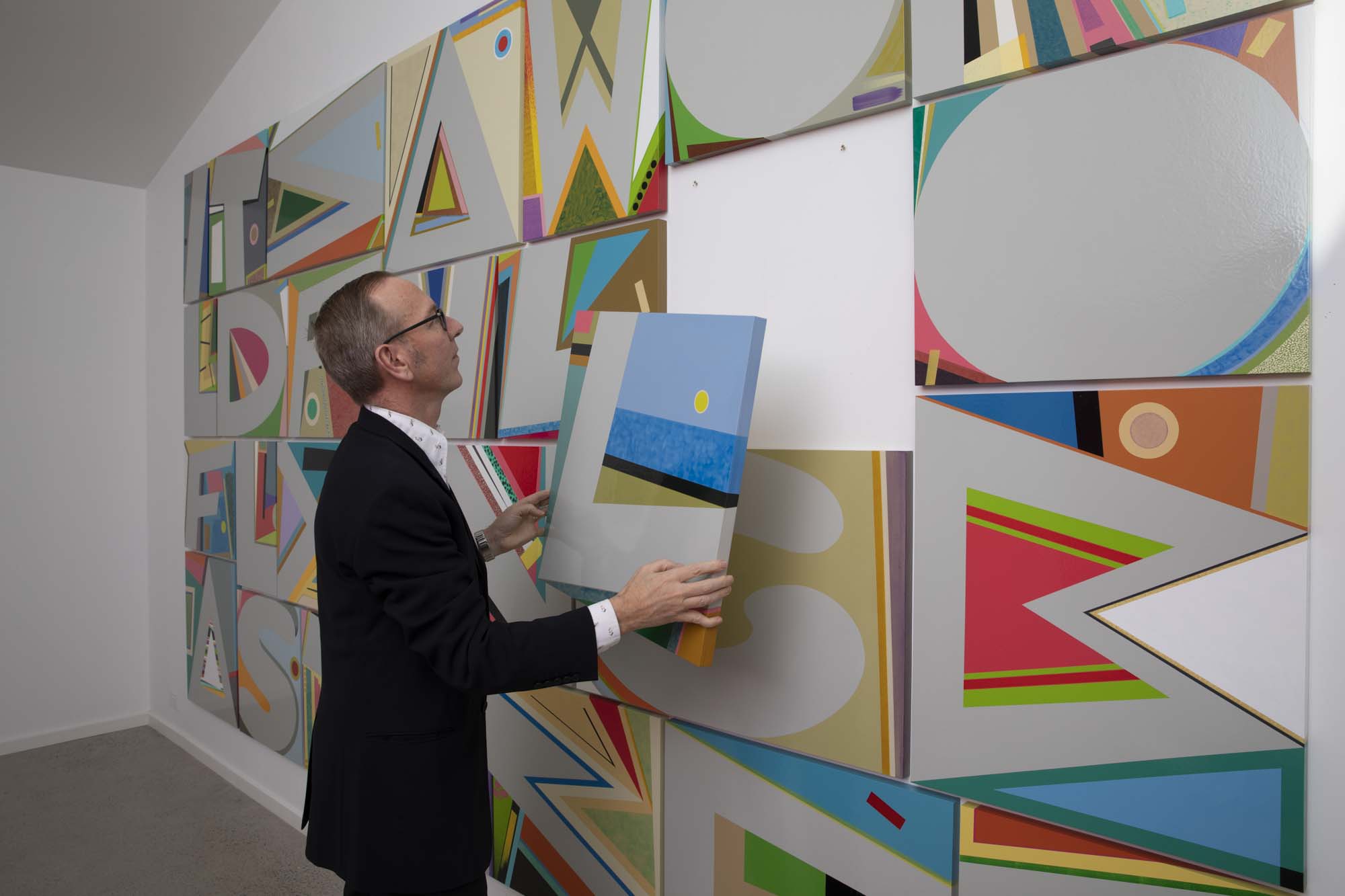 Jon Campbell photographed in his Melbourne studio by Tobias Titz, 2020